Price Realized:
$3,520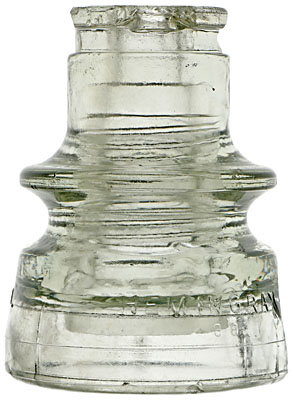 Lot 4:

CD 186.1 HEMINGRAY [010]

Color:

Clear

Description:

There are very few examples of this unusual style in the hobby. Most were found in one of the Hemingray Glass Company's dumping grounds. This design was granted a patent as a "Combined Spark Gap and Insulator" on January 8, 1946 by A.G. Steinmayer. There are four notches at the base of the pinhole. 1 1/4" square deep slice/chip on the left side removes "-19", 1" square deep flake/chip on the inside of the outer skirt that goes up approximately 1/8" from the base on the right rear. In total, about half of the flange at the top is damaged, and there are three sections that are not affected. For such a rare insulator, there are at least three variants known. Like the rest of the 186 series, they are found in normal and extended skirt styles. In addition, one variant has a "flat" top, and one has a top with concentric rings. This is the "extended skirt, flat top" variant. While there are significant condition issues, you just never see these for sale! This example sold for nearly $1,200 in 1997. Who knows what it will bring now? Don't pass this extremely rare style by!


Estimate:

$2,000 - $2,500

Open:

$1
Price Realized: $3,520
Auction technology and web site hosting provided by Bill Meier.