Price Realized:
$1,595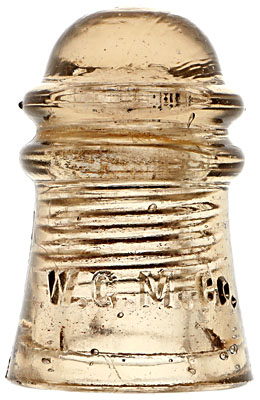 Lot 25:

CD 106 W.G.M.CO. [010]

Color:

Peachy Straw

Description:

The consignor writes: "In 1986 a friend and I went into the abandoned mining Newhouse supply tunnel. The construction of the tunnel started in 1893 and was done in 1910, bringing it into WGMCo era. The name of the tunnel was later changed to the Argo tunnel. I went in 1,800 feet to recover what I found in some old sepia photos, CD 106 WGMCo's attached to iron brackets. In these photos one of them showed that it was nearly colorless and had the concave signature shape of a WGMCo. Going in as far as the cave-ins would allow, we recovered seven of them. Other than the one I kept, my friend who went into the abandoned Newhouse tunnel with me, sold me his this spring. In collecting rare Denvers these are considered extremely rare." These light-colored W.G.M. insulators are some of the hardest colors to acquire, and they are very desirable! 1/4" base flake, otherwise easily very near mint. A great color with a great historical pedigree!


Estimate:

$400 - $500

Open:

$1
Price Realized: $1,595
Auction technology and web site hosting provided by Bill Meier.