Price Realized:
$297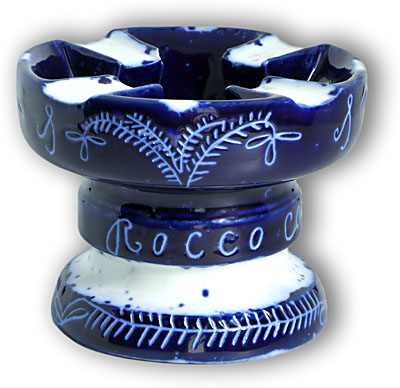 Lot 207:

Ashtray

Color:

Cobalt Blue and White

Description:

Stunning craftsmanship with finely engraved floral patterns on the top and around the bottom. 4 1/4" in diameter and 3 1/4" tall. Signed by the craftsman "Rocco Commisso." A white band on the pedestal adds some interest. The top is also very attractive, with six splotches of white in the bottom of the bowl. Each of the four rests is white on the bottom and cobalt on the side. Of the eight edges of the rests, only 2 of them have very small flakes at the end. These three items were believed to have been made at the Victor Insulators company around 1915. On Sunday, July 22, 1917, the Democrat and Chronicle (Rochester, NY) listed the people who were drafted from Victor, NY. Rocco Commisso's name is included. His draft card listed his residence as Victor, NY and his place of work as Victor Insulators Inc, Victor NY. His signature on the draft card matches the signature on these items very closely. This is pretty strong evidence tying these pieces to Rocco Commisso at Victor Insulators. It is highly likely these are one-of-a kind items. An amazing group of go-withs! This ashtray has a stunning visual presence!


Estimate:

$300 - $400

Open:

$1
Price Realized: $297
Auction technology and web site hosting provided by Bill Meier.