Price Realized:
$10,450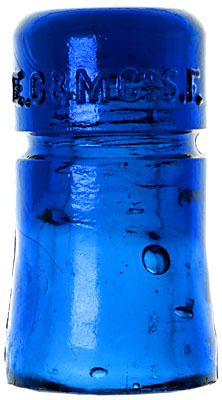 Lot 2:

CD 123 E.C.& M.CO. [080]

Color:

Cobalt Blue

Description:

"A" mold - 4 3/8" tall. Amazing, outstanding factory mint condition! The base is as smooth and well-formed as a CD 121. For completeness, there are very minor scuffs on top of the "M" and the "F". A rich, Cobalt Blue coloration with nice bubbles floating in the front skirt. The pedigree of this insulator goes back to 1969 when it was discovered. We were in touch with the second buyer. He has a letter from the seller dated September 20, 1971, and reads in part "As for the mint Cobalt ECM (this is one of mint, never used ones that were found 2 years ago under a railroad depot) I talked to the party that has this one and they want 300.00 for it, will let you have it for the same price if you want it, plus postage. It is truly a fantastic ECM. [...] Well let me know as soon as possible on any of the above, as they will not last long I don't think." The CD 123 units were produced in the 1870's for the Electrical Construction & Maintenance Company of San Francisco, California which operated a telegraph supply house. The insulator has changed hands a number of times and last sold for $6,160 in 2009. Who knows what it will bring now? This is without a doubt one of the best you will ever find!


Estimate:

$5,000 - $7,500

Open:

$1
Price Realized: $10,450
Auction technology and web site hosting provided by Bill Meier.