Price Realized:
$198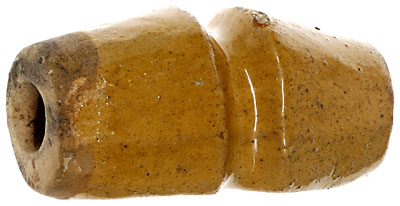 Lot 190:

Cooke's earthenware "barrel insulator" [

UPDATE:

the color is more Pumpkin than Yellow]

Description:

This insulator is 3" long. Nice rich color. Just a few small flakes on this 175+ year old insulator. It is interesting to note that these have a flat bottom. While technically "pottery," one would be tempted to call it "porcelain". An example was offered in the November 2017 Eagle Cap Collectibles auction and the description reads: "the first insulator ever patented ... two years before Samuel Morse's first telegraph line. The Cooke & Wheatstone Telegraph Company built a telegraph line for the London (England) & Blackwall Railway in 1840, burying the line underground. The insulated wire failed and in 1842 Cooke received a patent for this above-ground insulator. The groove was for a metal staple to hold the insulator to a post, and the telegraph wire was threaded through the insulator." A great piece of early telegraph history!


Estimate:

$150 - $200

Open:

$1
Price Realized: $198
Auction technology and web site hosting provided by Bill Meier.