Price Realized:
$484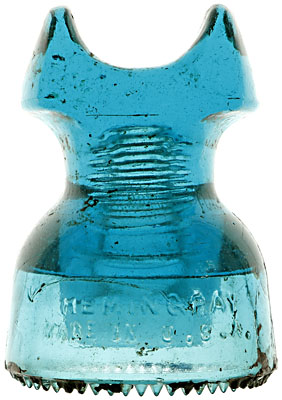 Lot 143:

CD 254 HEMINGRAY [060]

Color:

Hemingray Blue

Description:

This is the very rare "No 63 CABLE" embossing variant! It is also the only CD 254 embossing with "MADE IN U.S.A." on the front! The later-production CD 254 insulators are embossed "(F-Skirt) HEMINGRAY-63 (R-Skirt) MADE IN U.S.A." One can tell this is sort of a transition piece. as the "MADE IN U.S.A." on the front appears to be the "stamped" embossing style and the "HEMINGRAY" above it appears to be in larger, hand-engraved letters. Also, on the rear, one can see that the "63" style is "stamp-embossed" over the "3". 1/2" flake on the back of the right ear, a little sliver on the back of the left ear, a few chipped drip points, a few dings here and there. The consignor reports that this was used in the U.S. Steel mills in Chicago. The natural patina of the paint from that usage remains on the insulator. This can be removed if desired. A very limited number of units with this extra rare embossing are known in the hobby. The stunning, rich Hemingray Blue coloration makes this a must-have for the advanced Hemingray collector!


Estimate:

$400 - $500

Open:

$1
Price Realized: $484
Auction technology and web site hosting provided by Bill Meier.