Price Realized:
$1,375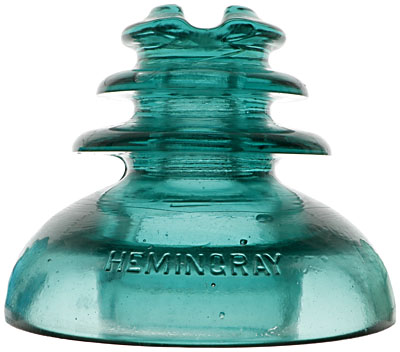 Lot 139:

CD 249 HEMINGRAY [005]

Color:

Aqua

Description:

This is one large and heavy piece of glass and is in excellent condition! Normally the "0 Provos" will have some chipping on the upper flanges which, in the day, were also called "petticoats." Often there is a stress mark in the saddle groove; this just has the faintest amount of wear. Hardly worth mentioning is a 5/8" sliver on the base. Many of these are hazy, but this one is much cleaner. The "0 Provos" were only used on two 33-mile 66KV lines in the Harrisburg/Pittsburgh area. In the late 1990's we drove by this area and could see the insulators glistening in the sun. Quite a sight! The line crosses the PA Turnpike between exits 7 and 8, and at this point the crossarms are doubled up, with 12 insulators on each pole. The line is still in use, although nearly all of the "0 Provo" insulators have been replaced. In Google Maps, there is a short stretch going down the road to the substation where one can still see three Provos atop some of the poles. They are slowly increasing in price as they become harder to find, especially in great condition!


Estimate:

$600 - $700

Open:

$1
Price Realized: $1,375
Auction technology and web site hosting provided by Bill Meier.