Price Realized:
$1,375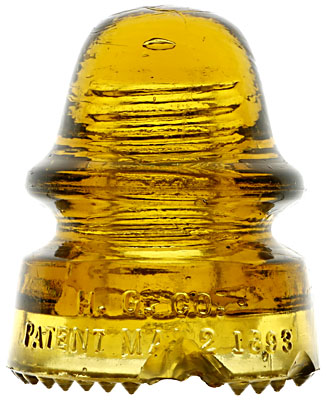 Lot 109:

CD 162 H.G.CO. [070]

Color:

True Yellow

Description:

The classic and elusive True Yellow H.G.CO. signal! This is less common than its CD 162 Hemingray-19 counterpart. It can be hard to tell a True Yellow signal just by looking at it. We do not guess. We compare it to the reference True Yellow signals in our personal collection to see if it should get the moniker "True Yellow." This one did. [

UPDATE:

These yellow H.G.CO. signals are much harder to find than their Hemingray counterparts. To top it off, this one has stamped embossing rather than the typical prism embossing. Extremely rare! So, we have a trifecta here. Color=Yellow; Primary Embossing=H.G.CO.; Embossing style=Stamped] 1" chip in front removes 4 drip points and part of the "AY" in "MAY", 1/2" chip to its right removes 1 drip point, a number of the drip points are chipped. All of the damage is on the base, and the upper part is in very good condition. This elusive insulator will make a striking addition to your collection of H.G.CO. signals!


Estimate:

$2,500 - $3,000

Open:

$1
Price Realized: $1,375
Auction technology and web site hosting provided by Bill Meier.