Price Realized:
$1,815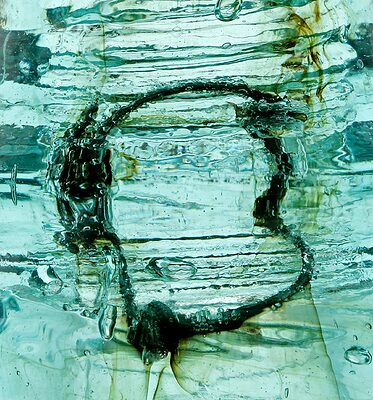 Lot 7:

CD 162.3 BROOKFIELD [020]

Color:

Aqua w/ Wire Loop

Description:

What an amazing "junk-in-glass" insulator! There is a huge piece of wire, about the diameter of a coat hanger, forming a loop over 1" in diameter centered in the upper wire ridge. Within this loop, there are two sections where the wire makes two 360-degree loop-de-loops. Where the ends meet, they are hooked together. To make the wire even more pronounced, there are bubbles all around the outer surface of the wire and amber streaks running vertically from the skirt to the top of the pinhole. 1/4" base chip on the side opposite the wire loop, otherwise very near mint. We have never seen a piece of wire this large embedded in an insulator before. It's perfectly centered between the dome and the skirt, and the thick wire ridge creates a magnifying effect for the middle of the loop. This is a top-shelf example for a "junk-in-glass" collector, or anyone who appreciates oddities! It's hard to put an estimate on this stunning rarity!


Estimate:

$500 - $1,000

Open:

$1
Price Realized: $1,815
Auction technology and web site hosting provided by Bill Meier.