Price Realized:
$2,475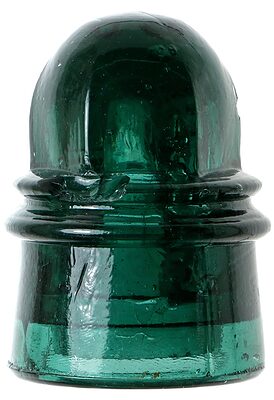 Lot 2:

CD 158.2 BOSTON BOTTLE WORKS [070]

Color:

Dark Tealy Green

Description:

What a stunning and desirable color! This classic "Boston Barrel" is less common than the CD 158 variant and has many of the typical "Boston" characteristics, including six panels on the dome, segmented threads, and embossing on the inner skirt. The Boston Bottle Works began to produce insulators in the early 1870s and ceased production around 1877. Samuel Oakman was granted patents for three- and four-segmented collapsible plungers to form the characteristic threads. 1" chip on the upper wire ridge, 1" chip/bruise on the lower wire ridge, 1/4" ding/bruise on the crown, feather bruise/fracture that is about 1" wide at the base and 2" wide at the lower wire ridge. Although the insulator has significant damage, the embossing "BOSTON BOTTLE WORKS / PATENT.OCT. 15. 72" on the inner skirt is in great shape. Displays very nicely from the front. Here's a chance for you to own this rare and desirable piece for a fraction of the cost of a very near mint example!


Estimate:

$300 - $400

Open:

$1
Price Realized: $2,475
Auction technology and web site hosting provided by Bill Meier.