Price Realized:
$3,850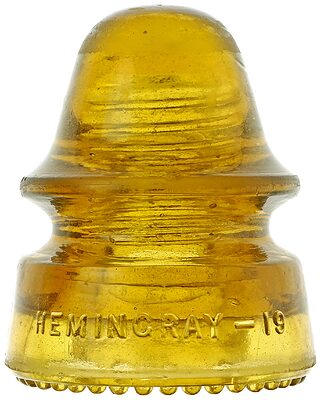 Lot 3:

CD 162 HEMINGRAY

Color:

True Yellow

EIN:

[090]

Description:

It can be hard to tell a True Yellow signal just by looking at it. We do not guess. We compare it to our reference True Yellow signal in our personal collection to see if it should get the moniker "True Yellow." This one did. This insulator has been locked up in a collection for over 30 years. Moderate high-point wear on the dome, wire ridge, and skirt, where it would rub if it was rolled around. This is only visible when front-lit. [

UPDATE:

view 3 shows some abrasion on the dome and view 4 shows some at the base of the skirt. The insulator has to be in the right light to view this. The wire ridge is the least affected, followed by the base and then the dome.] Some flaking and chipping on most of the inner skirt. 1/8" wire ridge flake, otherwise very near mint. These True Yellow signals are hard to find and are in high demand by collectors. They contrast well with the other colors in the Hemingray lineup and this is a key piece for the advanced signal collector!


Estimate:

$2,000 - $2,500

Open:

$1
Price Realized: $3,850
Auction technology and web site hosting provided by Bill Meier.