Price Realized:
$528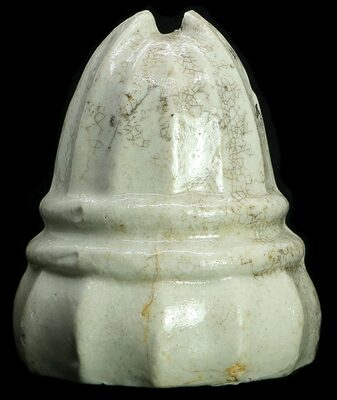 Lot 183:

U-980 "Horned Elliott"

Color:

White Porcelain

Description:

The surface shows an interesting crazing pattern. A little blunting on the horns, 2" base chipping. A patent was granted to Christopher W. Fenton on September 22, 1837 for manufacturing fire brick. This compound was used to produce "Flint Enamel Ware" and the Elliott insulators: U-979, U-980, U-981. A second Fenton patent covered the transparent glaze. Many publications of the time extolled the strength, the insulating properties, and the economy of the Elliott insulators. A variety of tests proved that they were difficult to break, and that moisture did not condense as it did on glass. A variety of Elliott insulators was displayed at New York's Crystal Palace Exhibition in 1853. You can see them on the facing page. They are on the little table on the left, about halfway up from the bottom of the illustration. This example is the variant with two inner rings. It's a typical crude piece with lots of character and an out-of-round pinhole!


Estimate:

$600 - $700

Open:

$10
Price Realized: $528
Auction technology and web site hosting provided by Bill Meier.