Price Realized:
$1,320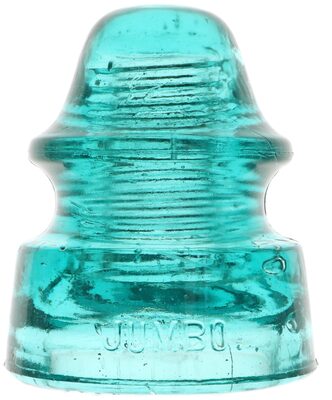 Lot 161:

CD 140 OAKMAN // JUMBO

Color:

Blue

Description:

A massive power piece weighing nearly 4 1/2 pounds! Note this is the less common embossing with "JUMBO" and "PATD JUNE 17, 1890, AUG 19, 1890" on the skirt and "OAKMAN M'F'G.CO. BOSTON" on the base. All the embossing is bold and strong. This example is somewhat unusual in that it has a lot of "junk" in it, especially in the rear where one can see many impurities and several 3/8" bubbles. Pair this with its eared counterpart with the same uncommon embossing in lot 162. The Oakman Manufacturing Company, which specialized in high voltage distribution insulators, produced CD 140 "Jumbo" insulators for the first underground trolley system in the United States. It was located in downtown Boston and service began around the year 1895. Most of the CD 140s in the hobby today were used on this line. This piece is worth a premium as it's in excellent condition for an insulator this large plus it has the less common embossing.


Estimate:

$500 - $600

Open:

$10
Price Realized: $1,320
Auction technology and web site hosting provided by Bill Meier.