Price Realized:
$16,775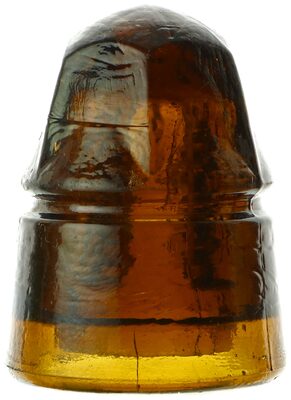 Lot 1:

CD 158 BOSTON BOTTLE WORKS

Color:

Dark Orange Amber

Description:

No damage on the base of the inner skirt, which is boldly embossed "BOSTON BOTTLE WORKS / PATENT APPLIED FOR". 1/8" base bubble and flake at the mold line and a little high-point wear, otherwise very, very, near mint. [

UPDATE:

view 3 shows the base bubble and flaking. A little more than 1/4" wide. View 4 shows it from the inside. Factory defect from an enclosed bubble on the inner skirt.] An absolutely stunning insulator in fantastic condition! We recently had the privilege of selling another CD 158 amber "Boston" four years ago for over $16,000. That example had a 1" chip on the inner skirt. Also, contrast that example with the "wide wire groove" in Dark Yellow Amber, with this item, which is the "narrow wire groove" variant in Dark Orange Amber. This insulator shares the unusual characteristics of many of the "Boston" styles. There are four segmented threads in the pinhole. The embossing is on the base of the inner skirt. There are six sloped facets that form the crown. Any insulator with the "BOSTON BOTTLE WORKS" embossing is desirable. This is an exceptionally rare item in a phenomenal color and amazing condition. An insulator like this is rarely seen for sale, and it would be a standout piece in your collection of high-end colored glass or your grouping of "Bostons". You may never have a second chance!


Estimate:

$12,000 - $15,000

Open:

$10
Price Realized: $16,775
Auction technology and web site hosting provided by Bill Meier.