Price Realized:
$2,365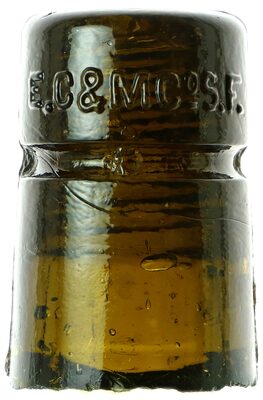 Lot 4:

CD 123 E.C.& M.CO.

Color:

Olive Amber

Description:

"H" mold - 3 3/4" tall. One of the most attractive and desirable of the range of colors for EC&Ms. See its killer brother in lot 3. What a duo! Stress line at the top of the pinhole and a flake on the rear skirt. The base is in better shape than is typical. This darker shade should complement the other colors in your lineup.

Update:

9/5 Note this is not blackglass as it easily passes light as shown in the photos. The color density there is very good (our lightbox, our monitor) but we'd expect it to be close to what you see on yours.

UPDATE:

9/11 View 3 shows the view of the pinhole. The main annealing line is 45 degrees counterclockwise from the mold line. You can feel that line on the top of the dome. There are two smaller arced lines as well. These are more shallow and only inside the pinhole. We believe all are annealing lines and not fractures. The dome is very thin, perhaps 1/8" thick. During cooling, this thin glass would cool faster than the other glass and there could be some separation of the glass causing these annealing lines in the dome. Please ask if you have additional questions.


Estimate:

$3,000 - $3,500

Open:

$1
Price Realized: $2,365
Auction technology and web site hosting provided by Bill Meier.