Price Realized:
$3,080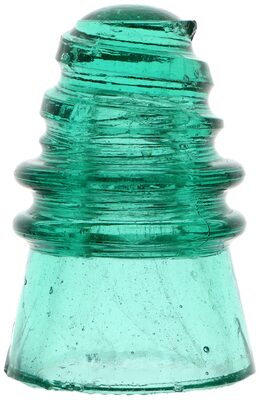 Lot 6:

CD 110.6 NATIONAL INSULATOR CO.

Color:

"Green"

Description:

Stunning! There is a huge contrast between this example and the "common" Light Aqua units. See a comparison photo in view 3. You might call this Green Aqua but it doesn't really matter. All of these large "Corkscrews" are quite uncommon and this darker coloration is especially rare. This is the "variant with a smaller upper skirt diameter, thus more taper on the skirt" which were primarily found in New Hampshire. This variant is more desirable than the "stocky" variant shown in view 3. The more pronounced wire ridge exemplifies the profile of the CD 110.6. Typically these have some chipping on the "spiral threads" as this example has. 3/4" chip on the top of the spiral, 1 1/2" open bubble with a little flaking on the lower wire ridge and a factory enclosed bubble above it, two 1/4" flakes on the skirt. A lot of detail but don't be concerned. It's easy to overlook these imperfections when this insulator is on your shelf next to a "common" light aqua piece. Ready to display and a great addition to your collection!


Estimate:

$2,000 - $3,000

Open:

$10
Price Realized: $3,080
Auction technology and web site hosting provided by Bill Meier.