Price Realized:
$7,150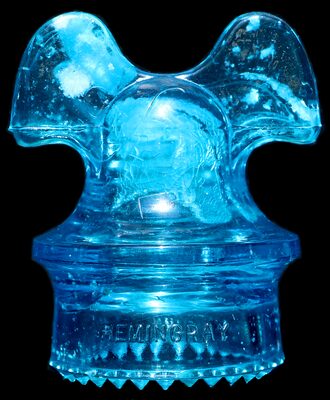 Lot 5:

CD 257 HEMINGRAY

Color:

Electric Blue w/ Milk

Description:

Color, Color, Color. Condition, Condition, Condition. This "Mickey" excels in both of these! A small area with a factory imperfection and just a sliver on one drip point. Condition: check, check, check. Amazing color combinations! Be sure to look at all five views. The insulator has a rich Electric Blue coloration in the skirt and flange, while, in the front, a large area of crazed milk flows over the top of the pinhole. In the rear, a wide ribbon of milk meanders around and up to the top of the pinhole. The right ear displays some nice milk and "snow". The left ear sports a "snowball of snow" in the front and an enormous crystalized ball in the rear! See view 5. Note the lines you see are not any stress lines etc. in the glass. Just crazing lines in the "snowball." Color: check, check, check. When you consider color and condition, this is one of the best, so don't pass it by!


Estimate:

$4,000 - $5,000

Open:

$10
Price Realized: $7,150
Auction technology and web site hosting provided by Bill Meier.