Price Realized:
$11,550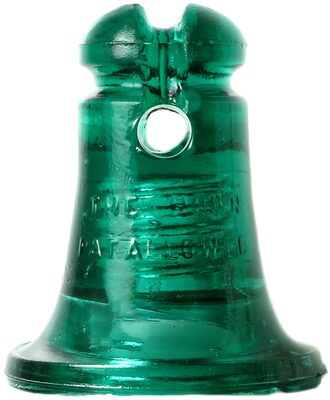 Lot 2:

CD 268 CROWN

Color:

Dark Green Aqua

Description:

"The Crown" is that "hole in one" insulator that brings to mind other ultra-rare and desirable insulators like EMMINGER'S, BUZBY, SEILERS, CLIMAX and the list goes on... That combination of rarity, coupled with an interesting or unique shape, makes these prize insulators.

Only three of the eight edges of the damage-prone vertical wire groove have some small flakes, indicating this example was likely used on a line. Many of the known examples have a slight overpour on the base with some minor flaking, and this example has three small flakes. A couple of dings on the crown. All of this is mentioned for completeness; it is not distracting at all when the insulator is displayed in your light box. There are probably less than a dozen examples in collections today.

One very unusual feature is the hole at the top where the tie wire goes through. The "bell shape" is certainly attractive and visually sets this piece apart from most other insulator profiles. The lack of wire ridges and only a wire groove at the top contribute to the smooth, pleasing, tapered shape.

A couple of "Crowns" have sold in the last few years for over $20,000 and nearly $40,000. What that means is there are two examples that used to be "locked up" in collections, have now changed hands, and will likely be "locked up" with their new owners for many years to come. Add this "Crown" to your collection now, before it slips away too!



Estimate:

$15,000 - $20,000

Open:

$10
Price Realized: $11,550
Auction technology and web site hosting provided by Bill Meier.