Price Realized:
$330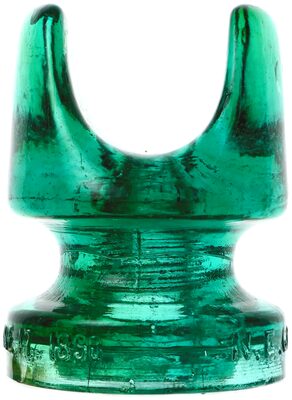 Lot 127:

CD 267 N.E.G.M.CO.

Color:

"Green"

Description:

This insulator is nearly green in its coloration. It is unusual that there are some traces of amber swirls, especially in the ears. The amber is probably what gave the glass its green color. One can even see some impurities in the glass and overall there is a translucency to the glass. A majority of the hobby's CD 267 insulators came from Boston's old MBTA "Orange Line", where there was a mix of all known embossings in use. Tracks were laid out in Boston as early as 1873 for horse-drawn trolleys. The old Orange Line, which was built around 1900 and decommissioned in 1988, was part of the electrification plan. 1 1/4" skirt repair, otherwise very near mint.

Update:

View 3 shows the skirt repair front-lit. There is a lot of "junk" and amber swirls in the glass creating that translucency that you see and the color of the skirt repair actually fits in quite well! These large cable insulators are a "must" for any power collector! A nice piece of history from Boston!


Estimate:

$500 - $600

Open:

$10
Price Realized: $330
Auction technology and web site hosting provided by Bill Meier.