Price Realized:
$660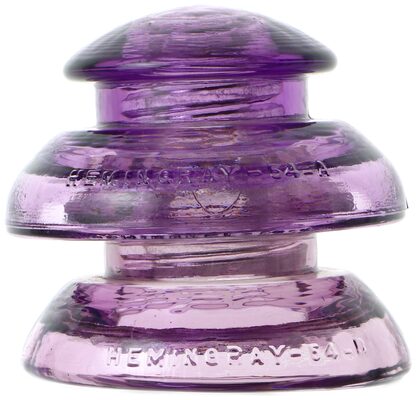 Lot 120:

CD 194/195 HEMINGRAY-54 A/B

Color:

Purple w/ Washer

Description:

Original factory washer! Outstanding condition! An underpour on the base makes it tilt some as well as making it shorter. These purple tramps are always eye-catchers. This style of two-piece transposition insulator was found primarily in Florida. They were manufactured in 1945-46 as can be seen by the date codes. These are true "sun-colored amethyst" pieces and, since the tops are exposed to more sun, they are often darker as with this example. But... this one has the original unbroken washer to cushion the top and bottom when screwed together as can be seen in view 3. The washer is brittle but intact. The inside diameter of the washer is 1 1/8" and the overall diameter 1 3/4". It is 1/16" thick. We have never seen an example of this washer and we specialize in collecting Hemingray insulators. Probably not the "only one known" but have you seen another? You will likely want to display the insulator with the top off so you can see the washer. We'll price it in the range these units typically sell for, not considering the value the washer adds. You can decide that for yourself!


Estimate:

$250 - $300

Open:

$10
Price Realized: $660
Auction technology and web site hosting provided by Bill Meier.