Price Realized:
$2,035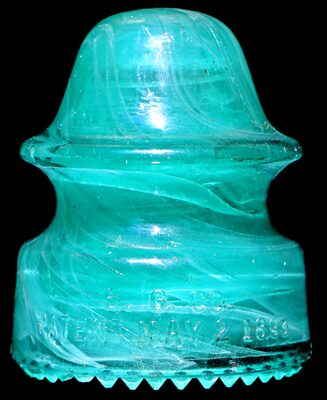 Lot 10:

CD 164 H.G.CO.

Color:

Milky Aqua

Description:

This is one stunning piece! H.G. 164's in Jade Green can regularly be found, and it is difficult to find one of them without significant drip damage. This example only has about a half dozen chipped drip points, otherwise it's very, very near mint. The Jade Milk units are quite desirable for collectors. Perhaps you will find an Aqua one with a little milk swirling. This is the perfect definition of "Milky Aqua" with very heavy and well-pronounced swirls. To best appreciate the swirls the insulator should be front lit. You will find nice milky swirling in some of the smaller Hemingray styles such as CD 106 and 113. However, this CD 164 style is massive compared to those and, with the additional surface area, the extreme swirling can be seen over a larger expanse of glass. The less common CD 162 in Milky Aqua lists for over $1,000 in the price guide; what's this one worth? A rarely encountered example and an outstanding piece for the CD 164 collector or the Hemingray collector. Don't snooze on this one!


Estimate:

$400 - $600

Open:

$10
Price Realized: $2,035
Auction technology and web site hosting provided by Bill Meier.