Price Realized:
$10,175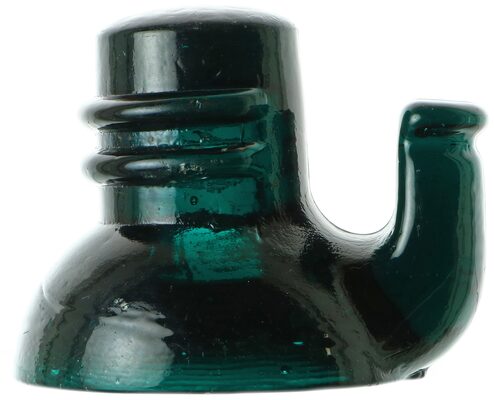 Lot 1:

CD 791 "Baby Teapot"

Color:

Dark Teal Green

Description:

The CD 791 "Baby Teapot" style is smaller and squattier and much scarcer than the larger CD 790 "Teapot". The insulator passes some light and one can see the Teal color. The most significant damage is about a 1" square flake up from the skirt on the side opposite the spout. There is a smaller flake, only about a 1/2" wide, on the base and extending up 1/2" on the skirt. No fractures or repairs. You can see some folds of glass on the rear. May have been very lightly tumble cleaned. In any case, the surface of the insulator is attractive-looking. The collage of photos is designed to show you every view of the insulator so you can make the best assessment of its condition. Please look at all of the large views and please call or email if you have any questions. Please note that the pictures have some degree of front lighting, which may cause some aspects of the insulator to be more pronounced than when it is in your backlit display case. This insulator has a very unique shape, and it's a very rare and desirable threadless addition to your collection!


Estimate:

$14,000 - $18,000

Open:

$10
Price Realized: $10,175
Auction technology and web site hosting provided by Bill Meier.