Bill and Jill Insulators Auction 144
Auction closed on Sunday, February 9th, 2014 at 10:00pm EST (7:00pm PST)
Thank you all for your participation!
---
View the Prices Realized w/ thumbnails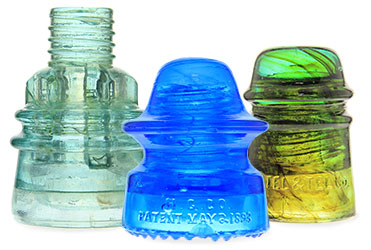 This auction features a number of rare CDs such as Twiggs, Screw-top Boston, O'Brien and CD 299.7 Lowex, as well as a number of American, Boston Bottle Works and Westinghouse insulators. There will also be many colorful 145's, 151's, and 162's. Also included are a very rare CD 164 H.G.CO. in Peacock Blue, CD 162 H.G.CO. in Green, CD 162 Hemingray in Dark Yellow Green with Smooth Base and CD 158.2 Boston in Dark Teal Green, as well as many others in a wide range of prices.
We hope you enjoy the auction
Bill and Jill Meier